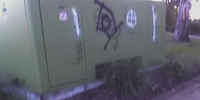 Beef is defined as having a grudge with or starting another writer or crew. Beef, in Graffiti, is very common, and can be spotted if a work of graffiti is lined, or crossed out, or even painted over with a tag. In the image on the right, the word "Toy", is simply sprayed over the tag.
Beef Starters
Edit
Other methods that usually start beef include:
If a toy does Graffiti over someone that is burner.
More examples of beef are seen below:
Ad blocker interference detected!
Wikia is a free-to-use site that makes money from advertising. We have a modified experience for viewers using ad blockers

Wikia is not accessible if you've made further modifications. Remove the custom ad blocker rule(s) and the page will load as expected.