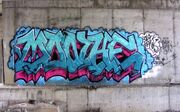 Wildstyle is one of the most widely used forms of Graffiti, along with Graffiti tags. Often a part of a piece, Wildstyle is denoted by a colorful, large style of writing. The letters written in Wildstyle are most often pushed together, and painted with large amounts of vibrant colors, which differ depending on the artist. Wilstyle typically forms a nearly 3-dimensional perspective, and when painted properly, can be respected by most of the other artists in the area.
Wildstyle graffitti is usually a large piece, in comparison to most graffitti. Often taking up a good amount of wall area, they can dwarf the tags signed beneath them, but can also be created to fit onto a smaller surface, such as the side of a large vehicle.
Ad blocker interference detected!
Wikia is a free-to-use site that makes money from advertising. We have a modified experience for viewers using ad blockers

Wikia is not accessible if you've made further modifications. Remove the custom ad blocker rule(s) and the page will load as expected.